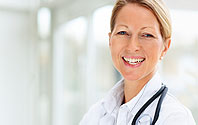 IMEs and RMEs deliver an unbiased medical opinion from a physician regarding an individual's medical condition, prognosis and ability to work. OHS completes and forwards correspondence as needed. All medical records are arranged in chronological order for the physician's review. A synopsis of the medical records is also prepared if requested.
Medical records are sorted chronologically and a comprehensive summary is prepared of all records in an outlined form, documenting all treatment, medical records and testing.
Disability examinations are conducted to assess an individual's claim that he or she is physically or psychologically impaired for any duration of time. After the exam, an OHS physician's report will explore not only the nature of the impairment, but the individual's capabilities and limitations.
A physician certified through AADEP will perform the assessment. Using AMA guidelines, the physician will evaluate an individual's whole body impairment.
An examination of an employee covered under the Federal Longshore Act for the purpose of providing objective analyses to resolve medical claims issues.
Following the guidelines of the Department of Labor, a physician will examine an injured employee for injuries sustained on the job. These individuals are not insured under state workers' compensation.
A liability examination documents the diagnosis of an individual as it relates to the alleged cause of the injury. Treatment plans are reviewed as well as any pre existing conditions that may be contributing to the all over disability of the individual and not related to the incident.