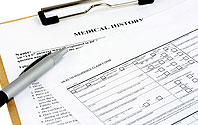 On-site EMG/NCV testing is performed by a board-certified staff physician. Reports are turned around within 24 hours of testing, providing a quick and precise interpretation of electro-diagnostic results.
Our board-certified behavioral health specialists test for psychological impairments.
Whether records are at a physician's office, a hospital or elsewhere, OHS will retrieve — physically or electronically — any pertinent records, films and/or diagnostics that are required for reviews or other services.