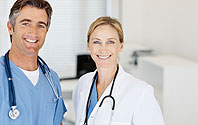 A family-owned business, OccHealth has created a flexible business model that allows for response to our customers' needs with strategic solutions. One example is the development of our proprietary software, which provides our clients with an effective tool to assist in the management of their claims and workflow. This enhancement has positioned OccHealth as a leader in the industry.
OHS clients, from insurance adjusters to attorneys, have the advantage of being able to view a monthly calendar of our physicians' schedules and locations, thus facilitating timely, cost-effective and convenient referrals. Other benefits include up-to-the-minute communication with OHS representatives, using our instant messaging and note systems. Physicians apapreciate how easy it is to work with OHS due to our technology, as they can easily review medical records on line as well as develop their reports.
In addition to our wide network of physicians, OHS has a core network of physicians who provide services exclusively for OHS. Our renowned medical director has a background in orthopedics and more than 20 years of experience in the workers' compensation and disability industry.
Every physician who performs exams and reviews is licensed and board-certified in his or her specialty, and every report is substantiated by evidence-based medicine utilizing the MDA guidelines, the ODG and other evidence-based literature.
Over the years, OHS has worked with numerous insurance adjusters, attorneys, government agencies, self-insureds and employers to assist in the management of their claims. In the years ahead, we remain committed to providing
our customers with continued value-added services;
a friendly professional environment for injured/disabled individuals;
reliable, professional and independent opinions.
OHS wants to remain part of the solution that assists injured worker/disabled individuals in returning to their pre-injury state.
Board certified specialists are available in the following disciplines:
Cardiology
Chiropractic Care
Dermatology
Dentistry/oral Surgery
Electro-diagnostic Studies
General Surgery
Hand Surgery
Infectious Disease
Internal Medicine
Neurology/Neurosurgery
Occupational Medicine
Ophthalmology
Orthopedics/Orthopedic Surgery
Otolaryngology
(ear, nose and throat)
Pain Management
Physical Medicine and Rehabilitation
Plastic Surgery
Psychiatry/Psychology
Pulmonology
Urology
Toxicology